The Canadian Society of Association Executives (CSAE) will be hosting its monthly webinar series on the PublicSquare platform!
In this case study, we'll cover the following:
White labelling
Panelist View
Live Data Collection (i.e Polls)
Breakout Rooms
CSAE's goals for the monthly webinar
The Canadian Society of Association Executives (CSAE) is a not-for-profit professional membership organization for association executives in Canada and across the globe. The goal of their monthly webinar is to offer robust networking and learning opportunities to their current membership of approximately 3,000 professionals across Canada.
CSAE had a few specific goals for their monthly webinar:
White labelling: The live broadcast should be CSAE branded
Multiple Panelists: There should be the ability for multiple panelists t host the webinar
Live data collection: The hosts should be able to poll the audience on specific topics
Breakout rooms: Audience members should be able to break off into rooms after the event to chat with other members in their re
How PublicSquare helped
1. White labelling
Through PublicSquare's new self guided event creation flow, CSAE was able to create a white labelled event in less than 5 minutes!
2. Multiple Panelists
PublicSquare has expanded its feature set to now support up to 12 panelists in a single webinar! CSAE was able to switch seamlessly from the main host to multiple panelist views at the click of a button.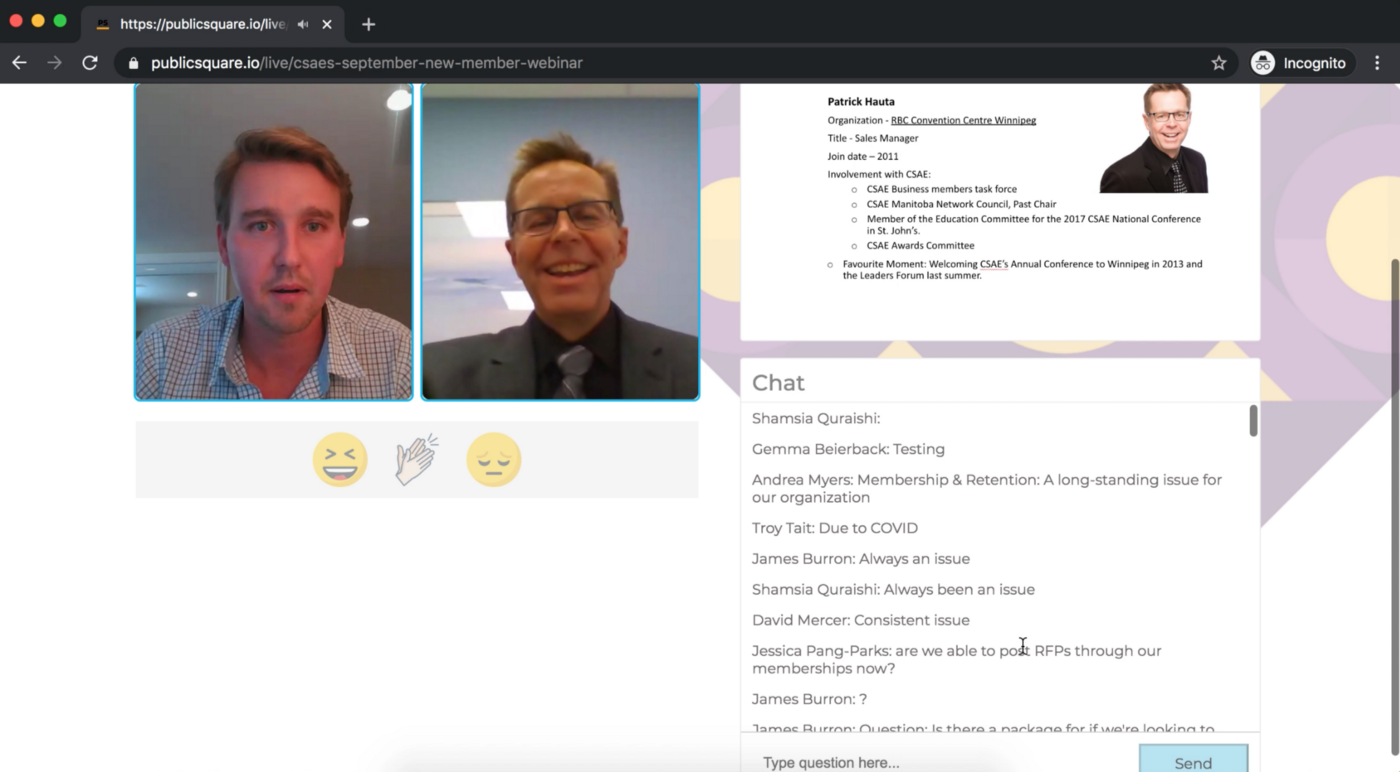 3. Live Data Collection
We're excited for this one. You can now connect better with your audiences and truly understand their sentiments on a topic by polling them live and then showing them the results after (if you wish!). Use this data to make smarter decisions for your organization later.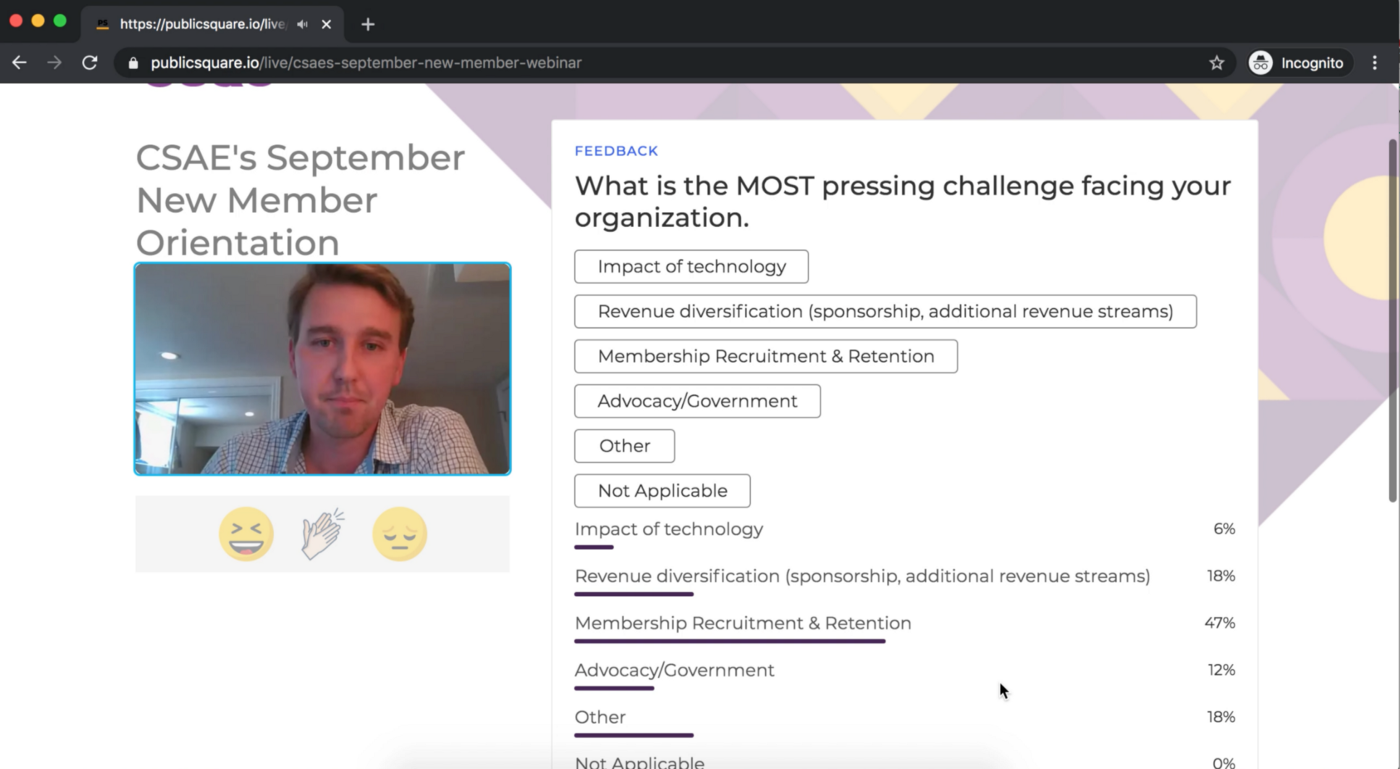 4. Breakout Rooms
We now also offer fully integrated breakout rooms. CSAE audience members were able to seamlessly network with other association members in their area to learn best practices and share key insights :)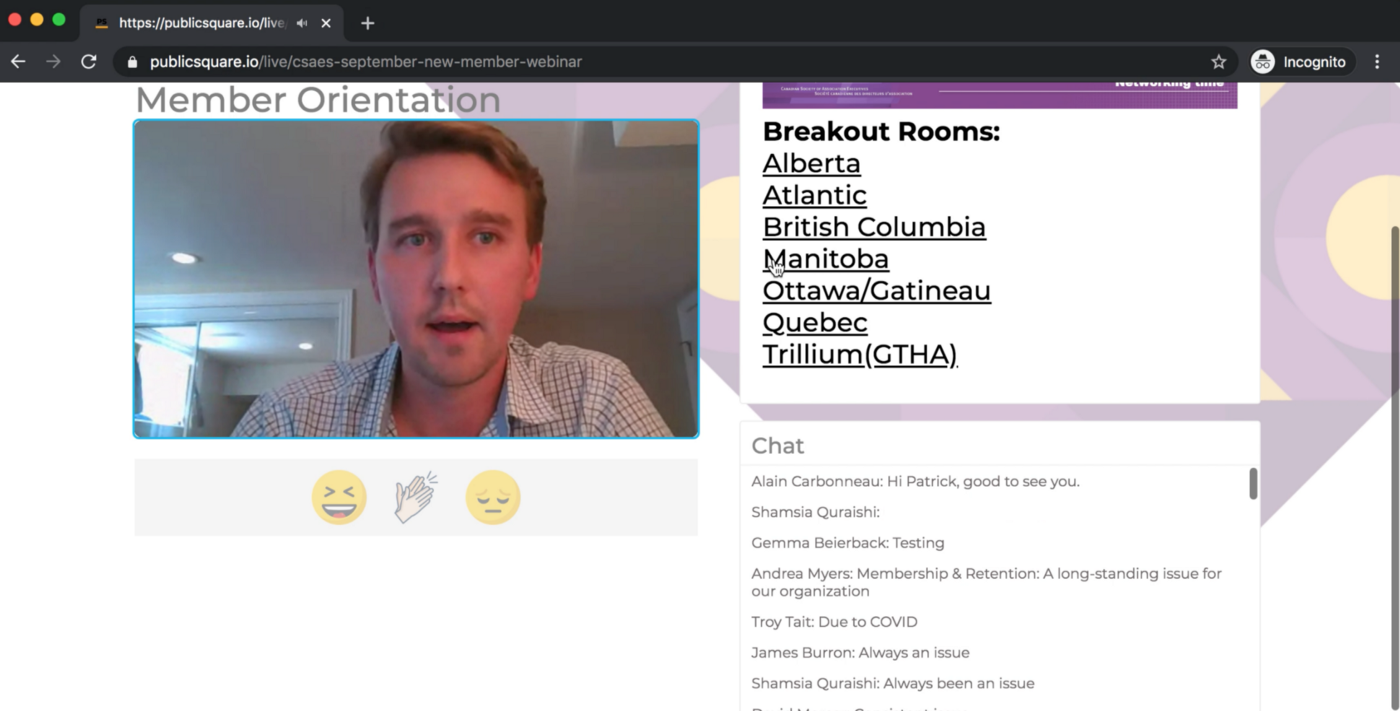 What we achieved together
This webinar was CSAE's first live broadcast in their series of conversations designed to raise offer robust networking and learning opportunities for their 3000 members. With the help of PublicSquare, CSAE gained some great early traction on their goals:
Total Sign-ups = 25
Total Live Attendance = 22
Total Views (includes post-event views) = 50+
Total Audience engagement = 288
At PublicSquare, we help political, non-profit and advocacy organizations reach their audience and achieve their goals as seamlessly as possible. If you're interested in learning more about our products, feel free to schedule a call with us here: Demo Scheduler